MPC(R) is giving away 100 Autographed Prints!
Wednesday, January 22, 2014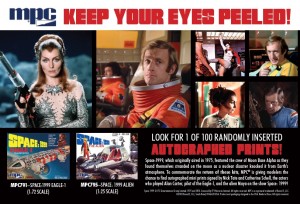 To commemorate the return of the Space 1999 Eagle 1 (MPC791) in 1:72 scale and the Space:1999 The Alien  (MPC 795) in 1:25 scale MPC (R) is randomly inserting 100 autographed mini prints into these model kits. Space: 1999 which originally aired in 1975, featured the crew of the Moon Base Alpha as they found themselves stranded on the moon when a nuclear disaster knocked it from the Earth's orbit. Modelers have the chance to find 1 of 100 mini prints signed by Nick Tate (Alan Carter, pilot of the Eagle-1) or Catherine Schell (the alien Maya) in boxes that showcase the contributions of these two actors made to the show.
34 Responses to "MPC(R) is giving away 100 Autographed Prints!"