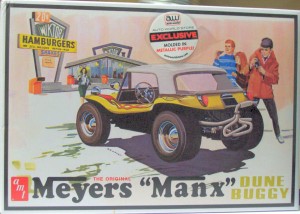 This is a highly anticipated re-release of a kit that fans have been hoping AMT would reproduce for many years now.  The kit parts have been molded in a clear metallic purple color, tires in a black vinyl and the windshield in clear or optional blue.  The wheels, engine, roll bars and bright work are all chrome plated. The large decal sheet includes flames, stripes and various custom graphics that allow the builder to put their own spin on the project.  The shortened VW chassis is well detailed, as is the fully chromed engine, complete with "bag of snakes" exhaust pipes.  For this special release, AMT has also included a multi piece die cut cardboard display of a typical California beach drive in from the 1960s – the same type that AMT included in this kit when it was originally released.
This is a great kit, with lots of potential. The modeler can build 3 different off road versions as well as a street version of the Manx.  Options include 2 up tops – a hard Surrey style flat top or a more conventional shaped top; build it open with simulated tonneau cover over the back seats, as well as a body-less full blown race style dune buggy with roll bars.
Thanks for the great review Cyber Modeler!