Archive for July 1st, 2016
OK modelers, I know you've been waiting since my last post with baited breath, to find out which AMT funny car has gone MIA! Well, here it is…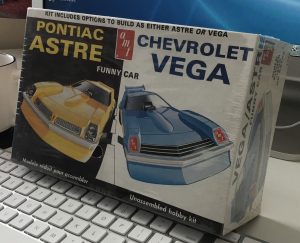 Yes, the rather unique and extremely cool looking Astre/Vega body insert slides and front/rear cap inserts are nowhere to be found. At this time, we have no plans to (ever) retool the missing bits, so those of you with the kit in your collections, consider yourselves fortunate!
To clarify, we DO still have the chassis tooling for this series of funnies, it's under the upcoming Larry Fullerton Trojan Horse kit coming later in the 3rd quater!
Happy 4th to those in the USA this coming Monday, and stay tuned for another episode of "Kat Chat" in a few weeks!