Archive for June 14th, 2016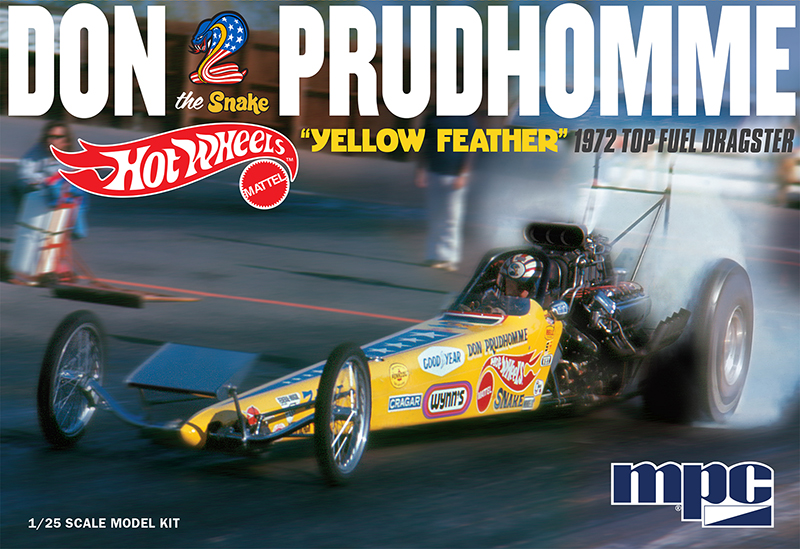 To say we're excited to be able to release an official version of Don Prudhomme's 1972 "Yellow Feather" Hot Wheels rear engine dragster would be a major understatement. With both Hot Wheels and Prudhomme on board, we're planning several kits starting with the Yellow Feather.
Prudhomme's '72 car was an exercise in vehicular weight loss and the new rear engine AA/TF was dubbed the "Yellow Feather." For our release we're utilizing our existing tooling but have added all new rear wing struts to match Prudhomme's car, a new injector scoop and an additional front bicycle wheel half, as the Snake's car didn't use the ringed version.
Plus, as a great bonus for vintage drag fans, the box art features photos from the one and only Steve Reyes, who's career captured all of the famous cars from drag racing's history. We're also including a 4-page card showcasing more of Steve's photos as both a collector's piece and as reference for the serious modeler. And, as if that's not enough, we're including an all new cardboard display base.
We have even more exciting Hot Wheels and Prudhomme kits in development that will blow everyone away! We're also planning a few kits featuring The Snake's famous racing rival, Tom "the Mongoose" McEwen. For drag racing modelers, MPC and AMT can't be beat.