Archive for June 22nd, 2009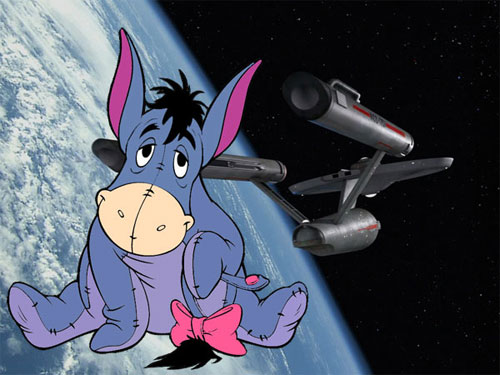 So, many people have picked up on a small detail in our latest press release that our 1/350 TOS Enterprise looks to be pushed back into 2011. We don't want to be the company that cried wolf so although an explanation isn't required, I'll offer up some quick detail.
First, let me address all of the Eeyores out there that say "oh man, that model kit will never get made" Or "I may die of old age before we ever see the model kit". To them, I offer the hard reality that aliens could invade the planet Earth tonight and we'll be involved in an interstellar war that rages for a millennia and they'd be right that the model kit may never happen in their lifetime. To them, I say, lighten up lest your bottom lip gets a rug burn.
Development of the model kit has begun. It has beaten the start of the new movie Enterprise by a full month. This is a model kit that MUST be right in every way. It MUST be accurate. It MUST build better than the 1/350 Refit. (yes, I said better) It MUST be special. It will be our best effort to bring a definitive model kit to market that requires nothing more to add to the subject.
Our original goal was to bring the model kit out by the end of 2010. By that, I mean out in late November. We have limited resources and with the economy as it is where banks don't hand out money as freely as they did just a year ago, we were told the date needed to move back into 2011. By pushing it back a few months, we are allowed to still do most of the other new kits we have planned for 2010. If it was the only new kit we did in 2010, I'm still not sure it could have happened. It truly is out of our control.
So we hope to have it out just after the clock strikes 2011. Thanks to those who have been reasonable and can understand that we don't make decisions like this to torture anyone. If we had unlimited funds and a time machine, we'd put it out tomorrow. But the invasion starts tonight so it still wouldn't have happened…